Compare prices on Oklahoma Sooners Jewelry and other Oklahoma Sooners fan gear. Save money on Sooners Jewelry by viewing results from top retailers.
There are many options for Oklahoma Sooners jewelry.
Ultimate Oklahoma Sooners Search (No Need to Enter Team Name)
Oklahoma Sooners Jewelry at Amazon
College Logo Pendant - Oklahoma Sooners
Sale Price: $11.08

College Logo Pendant - Oklahoma SoonersWholesale college logo pendant strung on rubber cord. Pendants are approximately 1 1/4" h and enameled in vibrant color. Features an easy to open/close clasp. Check out our entire line of wholesale college merchandise!
Oklahoma Sooners Ladies Allure Watch White Leather Strap
List Price: $90.00

Sale Price: $67.62

You Save: $22.38 (25%)

This women's fashion watch has a mother of pearl dial with team color logo and raised hour markers.  Features polished chrome finish alloy case with cubic zirconium crystals and stainless steel back...
Sooners Jewelry @ Other Shops
Oklahoma Sooners Men's Wood Bead Necklace
$15.99
School Spirit just got a whole lot cooler with Legacy's Coco Wood Bead Necklace featuring your school colors and official logo charm. [Read more]
Store: FansEdge. com
Oklahoma Sooners Vertical "Sooners" Dangle Earrings - Sterling Silver Jewelry
$61.82
You often see shirts, caps and jackets that feature logos from your favorite affiliation, phrase, hobby and sport. Now you can add high quality jewelry products to the list! You will love the exciting collections available! There are also more tha... [Read more]
Oklahoma Sooners Rhinestone Earrings
$16.99
Look poised and beautiful while cheering on the Sooners with these Oklahoma Sooners Rhinestone Earrings. Made by Seasons Jewelry- these Oklahoma Sooners earrings feature vibrant team-colored rhinestones and post backing to ensure they stay attache... [Read more]
Store: FansEdge. com
Oklahoma Sooners Rhinestone Necklace
$12.99
Look poised and beautiful while cheering on the Sooners with this Oklahoma Sooners Rhinestone Necklace. Made by Seasons Jewelry- this Oklahoma Sooners necklace features a rhinestone colored team logo and a back closure with a chain necklace. Add a... [Read more]
Store: FansEdge. com
Oklahoma Sooners Satin Cord Necklace
$12.99
Look poised and beautiful while cheering on the Sooners with this Oklahoma Sooners Satin Cord Necklace. Made by Seasons Jewelry- this Oklahoma Sooners necklace feature a silver tone team logo and comes with team colored satin extensions. Add a spl... [Read more]
Store: FansEdge. com
Oklahoma Sooners Stretch Bead Bracelet
$12.99
Look poised and beautiful while cheering on the Sooners with this Oklahoma Sooners Stretch Bead Bracelet. Made by Seasons Jewelry- this Oklahoma Sooners bracelet features a metal team logo and team colored plastic beads. Add a splash of style to y... [Read more]
Store: FansEdge. com
$59.99
This set of Oklahoma Sooners Cufflinks is the perfect gift for any Oklahoma Sooners fan. Enamel finish cufflinks on a nickel plated backing. Officially licensed [Read more]
Store: FansEdge. com
Oklahoma Sooners Cufflinks and Tie Bar Gift Set
$85.99
The ultimate gift combination for the executive sports fan.A By combining the officially licensed Oklahoma Sooners Cufflinks with a matching tie bar- we have eliminated the worry about if the gift you give will be used.A WearA the beautifully enam... [Read more]
Store: FansEdge. com
Oklahoma Sooners Beaded Earrings
$9.99
Look poised and beautiful while cheering on the Sooners with these Oklahoma Sooners Beaded Earrings. Made by Seasons Jewelry- these Oklahoma Sooners earrings come in a set of two and are in the shape of the team logo. Add a splash of style to your... [Read more]
Store: FansEdge. com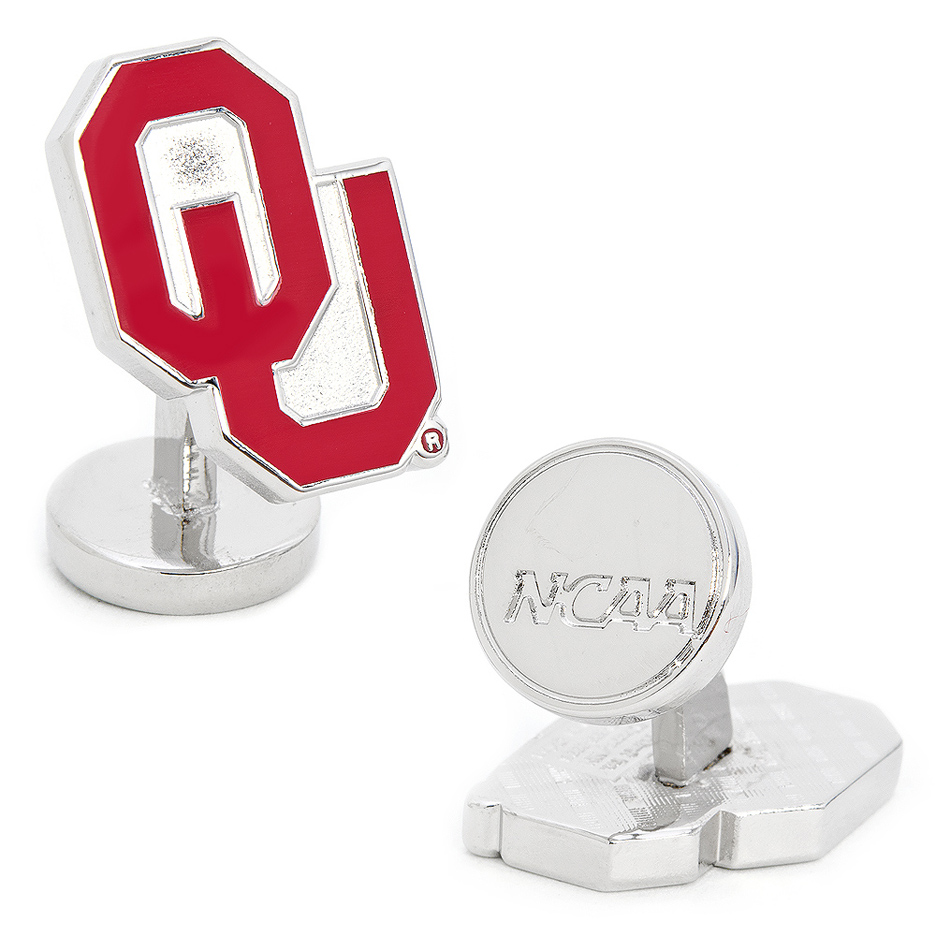 Oklahoma Sooners Palladium Plated Cuff Links - 1 Pair
$125.00
These Oklahoma Sooners cuff links are part of Cufflinks' elite, Palladium Edition. The Oklahoma Sooners logo is expertly constructed on a fixed backing cuff link. With the ultimate attention to detail, the cuff links are double sided and made ... [Read more]
$56.99
Carry your team passion wherever you go with the officially licensed University of Oklahoma NCAA team money clip. Boasting a heavy-duty forged 27 gram weight construction and rhodium plating- our team money clips are certain to make a loyal compan... [Read more]
Store: FansEdge. com
Oklahoma Sooners Fan Gear
Lady Sooners
Oklahoma Jewelry at Ebay

---